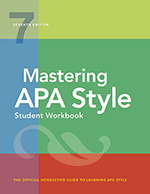 Mastering APA Style Student Workbook
This all-digital workbook, updated for use with the seventh edition of the Concise Guide to APA Style and the Publication Manual, is APA's official interactive guide to learning APA Style. It engages users online with applied questions and summative quizzes to learn and master the basic principles of APA Style and scholarly writing.
Examination Copy
Considering using an APA book for your upcoming course? Request a digital examination copy today to review before you adopt.*
Desk Copy
Are you a faculty member who has already adopted an APA book for your upcoming higher education course? Click below to request a free e-book desk copy.*
Request an Exam or Desk Copy Today!
*In an effort to ensure quick and efficient fulfillment of desk and exam copies APA Books has adopted an e-book only desk and exam copy delivery model. All desk and exam copy requests will be fulfilled digitally. We are able to make exceptions in some cases for medical reasons. If you require an exception please email DeskCopy@apa.org